Control your Dark Licht fixtures with the ease of the DL – Light management system application. This app is currently only available on android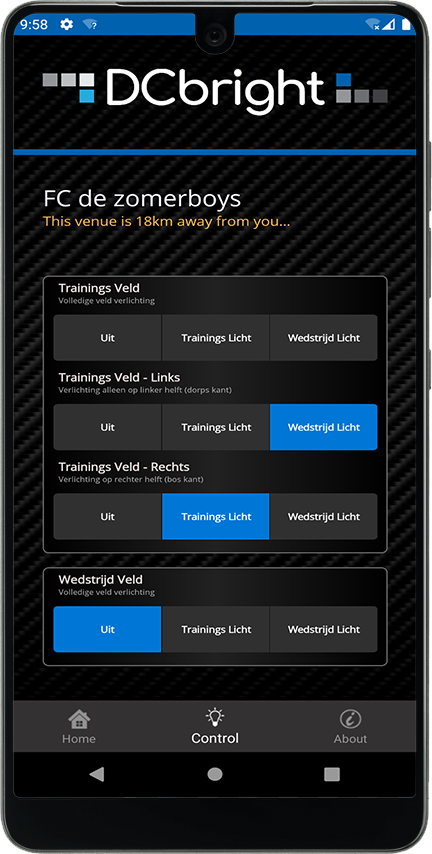 With the DCbright Mobile app you are in control of your lighting system. The administrators have prepared club settings in advance in which you can control. Administrators can adjust lux levels, change the area layout such as adding half fields, and manage the app users.
For club trainers, this will mean that instead of an entire field at 500 lux, they can illuminate half a field to, for example, 200 lux. This will save a lot of energy for the club and be less dazzling for the players during training.
for now the club needs a stable internet connection to power the gateway. This will send the signal to the transceivers that pass on the signal to the lamps. In addition, these smart transceivers also forward the signal to any subsequent transceivers, this makes the range of the gateway infinite.
Operate anywhere
With the DCbright App you could control the lamps at any distance. However, you must be authorized by the admin for this.
Controllable by App
The lamps can be controlled with an app. this app can be downloaded on both iOS and Android. for additional admin functions you need to log in via a web browser
Energy-efficient
Your site does not always have to be illuminated to the maximum. your DCbright or Dark Licht luminaires can be dimmed for those moments when a little less light is also bright.
Multiple accounts
Multiple users can log into the system to control the lights. Think of coaches, trainers or a team of friends. These accounts may be subject to restrictions regarding functionality.
By using a smart gateway, you only need 1 gateway per location to control all your Dark Licht luminaires. This gateway will connect itself to the receivers. 
The Administrators can login to the gateway from a desktop PC. From within this online environment you can create the terrains, add the users and adjust the light intensities.
The transceiver will control the lamps. As a result, each lamp will have to be connected to a transceiver. On a sports field, this means that a transceiver must be placed in each pole, which will be connected to the lamp.
No extra ground cables or mast cables need to be laid. The transceiver receives but sends (smart LoRa Mesh) the signal from the gateway. This gives the DCbright Light management system an enormous range.

Get in contact for more information